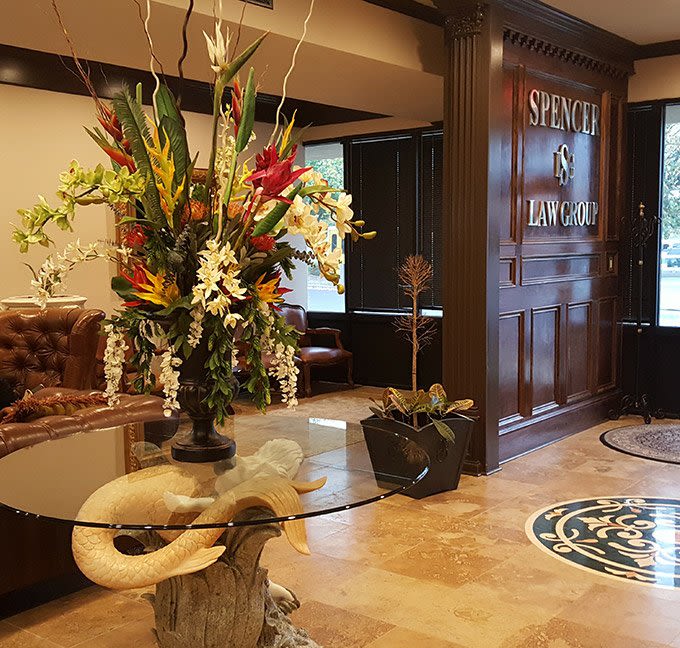 A Dedicated Team Devoted to You
Kelly Spencer is a self-proclaimed "workaholic" who felt destined to pursue a career in law. However, for Kelly, being an attorney has never felt like work. He sees his practice as an aspirational calling, and he founded and grew the Spencer Law Group by hand-selecting the finest attorneys to work alongside him in his duty to serve the community.
Today, when you partner with us, we all share our individual resources and expertise in order to achieve the best possible outcome for your case. We operate as a family, and we work to earn your trust. Our phone lines are open to you no matter the time of day. In essence, we are more than just a group of attorneys in a firm—we are a unified team devoted to you.
Working Together to Expedite Your Recovery
At the Spencer Law Group, we understand how an accident or injury can impact your entire life. That's why it is our personal philosophy to give you immediate attention and be of service to you around the clock. We are not simply your attorneys; we are your partners, which means we are here to assist you with whatever you may need. Personal injury is our area of expertise, so let us coordinate your medical care and help you get your life back to normal. We are happy to do so. That's the difference of a partnership.
Our #1 priority is to make sure you are taken care of.
5-STAR SERVICE
If you are the victim of an accident or injury, we're here to help. Let us handle the rest. We pride ourselves on providing you with the white glove treatment.
ATTENTION TO DETAIL
Handling an accident or injury can be complex, but we have the expertise needed to ensure that every aspect of your recovery is addressed. We won't let anything slip through the cracks.
FULL-CIRCLE CARE
We are here to walk with you every step of the way. We make sure you fully understand your case and supply all of the resources you need until your life is back on track.
A History of Serving Kentucky & the Surrounding Areas
If there's one thing we know, it's the people of Kentucky. We've been representing cases throughout the state for many years now, and the courts recognize our names. The Spencer Law Group is a well-known and established firm across Kentucky as a whole. We understand Southern values, and we treat all of our clients and partners like family. However, we are also always willing to take on cases outside of our standard area upon request.